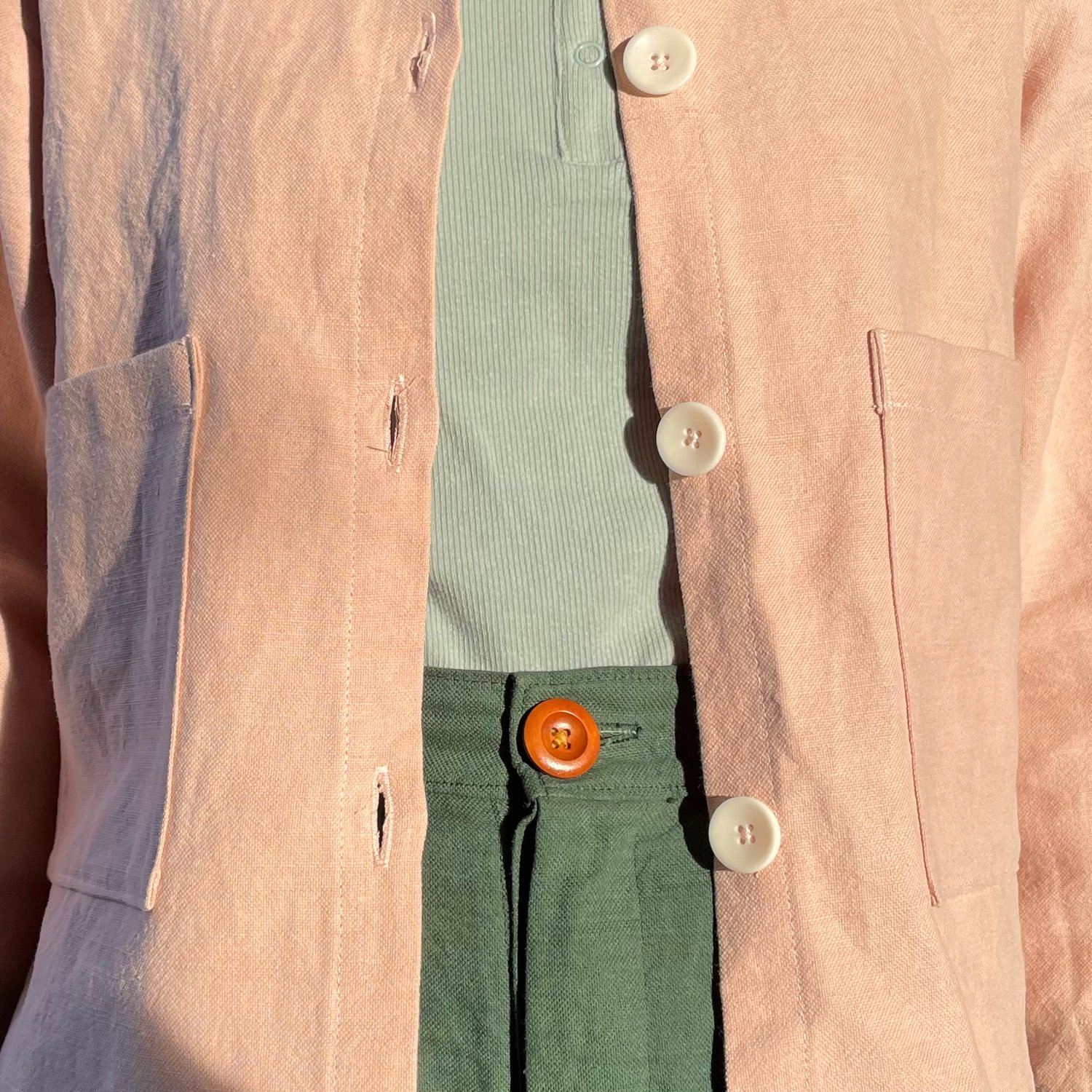 Bristol Jacket ~ Avocado Pink - S
Ready to ship - size S
Lovingly hand dyed with avocado. The Bristol Jacket is a slightly loose boxy fit, that should give you enough room for a cosy jumper underneath. It's cropped to sit around hip height. It has two generous front pockets, a button down front, with 4 natural corozo nut buttons. A loop sits below the back of the collar so you can easily hang the jacket up without a hanger.
The Bristol Jacket in Avocado Pink goes through a very lengthy dye process, this is why it's a little more expensive than the other jackets, the time intensity is also why they are a super limited run. Learn more below.
Sizing:
S: chest 113.5 (8-10)
M: chest 118 (12-14)
L: chest 126 (14-16)
XL: chest 131 (16-18)
XXL: chest 137 (18-22)
All sizes:
Standard length: 55cm
Model: Megan is 5'11" uk 8/10 and wears size S.
(I'm more than happy to offer my advice with regards to sizing, pop me an email if you're unsure. We can offer additional sizing options on request too ~ email hi@sofo.studio with your requirements)
The Bristol Jacket in avocado pink goes through a very lengthy dye process, this is why it's a little more expensive than the other jackets. Learn more below:
Process:
Fabric is pre treated with soya milk to help aid absorption of dyes stuff. 1 week before dyeing.
Fabric is soaked in warm water for 12-24 hours before dyeing, in this time the dye stuff is prepared by simmering avocado skins or pits for at least 2 hours - the water becomes rich with dye quite quickly, once a deep colour is reached the dye stuff is strained through muslin, this process is repeated around 5-6 times.
Damp fabric is immersed into dye pot (while gentle simmering) for 1-4 hours, stirred regularly to avoid pockets of dye forming.
Very gentle rinse.
Fabric is left to dry for 1 week before washing with a gentle detergent.
Fabric is ironed, cut & sewn into your Bristol Jacket, finally buttons and labels are added. It takes about 5-6 hours to complete the final stages of the process.
Due to the natural dyeing process some very small areas of hyper-pigmentation to be expected. The pink will fade a little, gently overtime. Always store naturally dyed fabrics out of direct sun. Wash cool by hand or on a very gentle cycle. Always line dry. Iron with steam. We don't use any harsh chemicals or metals, just soya, avocado and water.
Each avocado dyed garment is truly one of a kind as no two dye baths will reach an identical tone. ~ this is such a beautiful part of natural dyeing.
Email hi@sofo.studio for additional sizes